Session 2: Stakeholder Perspectives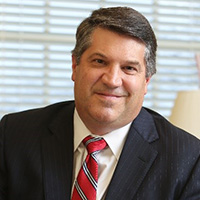 Craig Cook
Secretary of the Institute and General Counsel
Rensselaer Polytechnic Institute
Craig Cook serves as the general and secretary of Rensselaer Polytechnic Institute. Prior to joining Rensselaer in 2016, Cook held various in-house legal roles at IBM Corporation over a 21-year period, advising management on a broad array of legal and compliance matters, and managing a global team of technology attorneys. In both roles, he has practiced extensively in intellectual property and licensing.
Cook holds a Juris Doctorate degree with Highest Distinction from the University of Iowa, College of Law, and earned a Bachelor of Business Administration degree in Finance with High Distinction from the University of Iowa, Tippie College of Business.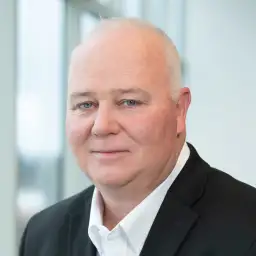 Sean Doyle
Managing Director
Intel Capital
Sean Doyle is a managing director located in the Bay Area. He joined Intel Capital in 2001.
Doyle focuses on investments related to silicon device technology design, development, and manufacturing as well as on Intel global supply chain enablement. Representative private investments include IMS Nanofabrication, Inpria Corporation, and Voltaix and public company investments such as ASML Holdings, ASM International, AT&S AG, Micron Technology, Nikon Corporation and Photronics Inc. Doyle currently serves as a director or observer on the boards of Qolibri, Inpria and Reno Subsystems.
Prior to Intel Capital, Doyle worked in corporate finance at Laidlaw Equities and in marketing at Oracle Corporation. He holds a BA from UC Berkeley and an MBA from the UCLA Anderson School of Management.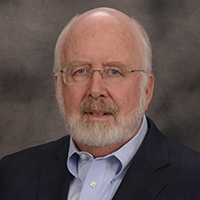 Sam Fuller
Chief Technology Officer Emeritus and Distinguished Scientist
Analog Devices, Inc.
Samuel H. Fuller, Ph.D., is the chief technology officer emeritus and distinguished scientist of Analog Devices, Inc. (ADI) and has been with ADI for twenty years. He is also an affiliate research scientist at MIT working on next generation integrated circuits and systems. Prior to joining ADI in 1998, Dr. Fuller was vice president of research and chief scientist at digital equipment corporation where he built labs researching new processor architectures and software systems.
Fuller holds a B.S. degree in electrical engineering from the University of Michigan and an M.S. and Ph.D. from Stanford University, and has been an associate professor of computer science and electrical engineering at Carnegie Mellon University. Dr. Fuller serves on the board of the Corporation for National Research Initiatives, which works on advances in information infrastructures. He is an IEEE Fellow, AAAS Fellow, and a member of the National Academy of Engineering. Fuller has been a director of ADI, MIPS, Zygo and INSO Corporations and brought his significant experience in technology and research and development, broad knowledge of markets, and management experience in high technology global corporations to these boards.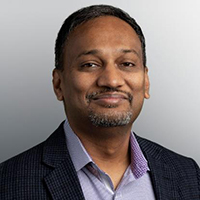 Anand Kamannavar
Global Head
Applied Ventures, LLC
Anand Kamannavar is the Global Head of Applied Materials' venture capital fund. In this role, he manages Applied's > $300M global venture investment portfolio of 90+ companies across 16 countries. Kamannavar has led over a dozen venture investments with successful exits including Adesto (NASDAQ: IOTS), Enphase (NASDAQ: ENPH), and Voltaix (acquired by Air Liquide). Kamannavar has over two decades of experience in the technology and venture capital industry and new business development. He first joined Applied Ventures in 2006, with a focus on identifying and leading investments in the area of semiconductor, energy, materials, and India. He then went on to head Applied's new business group which led to Applied's entry into optics, life sciences, materials, and other high growth markets.
Previously, Kamannavar worked at Atlas Ventures and Arch Development Partners looking at startups in the broader alternative energy, Internet, Web 2.0, media, software, and medical sectors.
Before his career in venture capital, Kamannavar held various engineering and business development roles with Hewlett-Packard's server group in Richardson, TX where he was awarded key U.S. patents. He also co-founded Precision Information Systems which provides financial data and tools to leading financial institutions like Ameritrade, New York Life, and Intuit.
Kamannavar received an MBA with Honors from the University of Chicago Graduate School of Business, and holds graduate and undergraduate degrees in electrical and electronics engineering.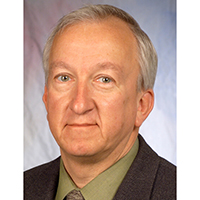 Robert Karlicek

Director, Center for Lighting Enabled Systems & Applications (LESA)
Professor, Electrical, Computer and Systems Engineering
Rensselaer Polytechnic Institute
Dr. Robert F. Karlicek, Jr. is a professor of electrical, computer and systems engineering, and the director of the Center for Lighting Enabled Systems & Applications (LESA) at Rensselaer Polytechnic Institute. Prior RPI, he spent over 30 years in industrial research and R&D management positions related to optoelectronics, telecommunications and lighting systems with corporations including AT&T Bell Labs and General Electric. Karlicek obtained his Ph.D. in physical chemistry from the University of Pittsburgh and has over 56 peer reviewed technical papers and 48 U.S. patents.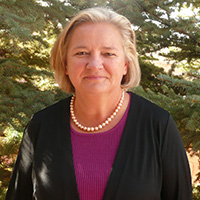 Lisa Kuuttila
CEO & Chief Economic Development Officer
University of New Mexico Rainforest Innovations
Lisa Kuuttila joined UNM Rainforest Innovations (UNMRI), the University of New Mexico's technology-transfer and economic development arm, as president & CEO in 2003. She is currently CEO and chief economic development officer of the organization. She works with the UNM Rainforest Innovations Board of Directors in developing strategies for implementing UNMRI's vision to play a vital role in New Mexico's economic development and to be a leader in technology commercialization. Under her leadership, UNM Rainforest Innovations is substantially growing its program using the Rainforest model to develop an innovation ecosystem in New Mexico. 
Kuuttila has more than 30 years of prior leadership experience in technology commercialization and entrepreneurial ecosystem development. This includes positions as assistant vice president for technology commercialization at Purdue Research Foundation; director of technology commercialization, University of Georgia; and director of the Office of Technology Commercialization, Center for Advanced Technology Development, Iowa State University. Her prior experience also includes a consulting practice that provided strategic marketing and technology-transfer consulting services for a wide variety of well-known technology corporations, universities, and foundations, including Stanford University. Kuuttila began her career in industry in several engineering and technology-marketing positions. She received a B.S. Electrical Engineering from the University of Michigan and an M.S. in Public Administration from Iowa State University. She is also a graduate of the Venture Capital Institute.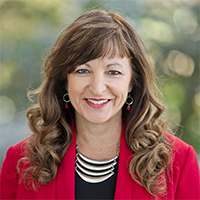 Julie Lenzer
Chief Innovation Officer
Advanced Regenerative Manufacturing Institute (ARMI) 
Julie Lenzer has held every role in the entrepreneurial ecosystem – from successful entrepreneur, policy advisor, funder, ecosystem builder, and investor. She is currently the chief innovation officer for the Advanced Regenerative Manufacturing Institute where she is building out an ecosystem for startups in this emerging industry. Most recently, she was the chief innovation officer at the University of Maryland where she was charged with fostering and deploying innovation to drive greater economic and social impact from faculty, students, and alumni endeavors. She was also the founding director of the Quantum Startup Foundry at UMD where she launched a global platform for catalyzing quantum technology-based companies. 
Prior to joining the university, Lenzer was the director of the Office of Innovation and Entrepreneurship (OIE) within the U.S. Department of Commerce and Special Assistant to the Secretary for innovation policy. While there, she created the Regional Innovation Strategies grant program (now called Build to Scale). As of 2018, that program helped create over 14,000 jobs and raise just over $1.6B in capital to support startups.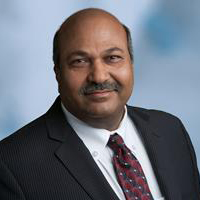 Omkaram Nalamasu
Senior Vice President and Chief Technology Officer
Applied Materials
Dr. Omkaram (Om) Nalamasu is senior vice president and chief technology officer (CTO) for Applied Materials. He brings extensive experience and passion to the role of CTO, where he is leading the development of new product pipelines, securing government funding for key strategic projects and building a world-class team to maintain Applied Materials' technology leadership in the industries it serves and enable growth into new markets. Dr. Nalamasu is also the president of Applied Ventures, LLC, the venture capital fund of Applied Materials, overseeing the financial and strategic investments in early and growth-stage privately held companies.
A world-renowned expert in materials science and technology and one of our industry's respected forward thinkers, Dr. Nalamasu has championed a renewed focus on the company's innovation culture through various internal development programs and open innovation methods. He has strengthened Applied Materials' strategic relationships with universities and research institutes around the world including IIT Bombay.
Dr. Nalamasu joined Applied Materials in 2006, after serving as vice president of research at Rensselaer Polytechnic Institute (RPI). He has held key research and development leadership positions at AT&T Bell Laboratories, Bell Laboratories/Lucent Technologies, and Agere Systems, Inc., and was director of Bell Laboratories' Nanofabrication Research Laboratory, MEMS and Waveguides Research, and Condensed Matter Physics organizations.
Dr. Nalamasu has made seminal contributions to the fields of optical lithography and polymeric materials science and technology. He has received numerous awards, authored more than 180 papers, review articles and books, and holds more than 35 patents.
Dr. Nalamasu is a member of the board of directors of Semiconductor Research Corporation and The Tech Museum, and serves on the National Academies Panel on Materials Science and Engineering. He sits on several technical advisory boards and university advisory committees, and received his Ph.D. from the University of British Columbia, Vancouver, Canada.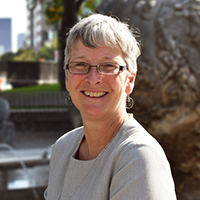 Lesley Millar-Nicholson
Director
MIT Technology Licensing Office
Lesley Millar-Nicholson has been the director of the MIT Technology Licensing Office (TLO) since July 2016 and from September 2019 also assumed responsibility as director of Catalysts in the newly formed MIT Office of Strategic Alliances and Technology Transfer (OSATT).  As TLO Director, she leads a team managing the MIT's intellectual assets and technology transfer process. As Director of Catalysts, Lesley leads a small team of Catalysts who work closely with faculty on corporate and other complex research funding and capacity building opportunities.
Millar-Nicholson is a past president of the Board of Governors of Certified Licensing Professionals Inc, (CLP Inc.), is a former member of the Board of Directors of the Licensing Executive Society (LES), and is on the Board of Cambridge Enterprise, UK.  A native of Scotland, Millar-Nicholson has a B.Ed., M.Ed, MBA and is a Certified Licensing Professional (CLP).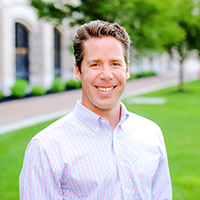 Nicholas Querques
Director of New Ventures
SUNY Research Foundation
Nicholas Querques is Director of New Ventures at SUNY Research Foundation (RF). RF is the largest comprehensive university-connected research foundation in the country, administering $1.6 billion in research expenditures annually throughout 64 campuses. Querques leads a growing portfolio of initiatives focused on promoting entrepreneurship and commercialization across the $1.6 billion research enterprise, helping SUNY companies start strong and scale, and building partnerships with investors and development partners to get more SUNY technology into the market.
Prior to RF, Querques was program manager for technology to market at NYSERDA, the New York State Energy Research and Development Authority. In this role, Querques was directly responsible for a $130 million portfolio of innovation, technology development, and investment initiatives targeted to entrepreneurs, innovators, and early-stage companies in the energy space. Prior to NYSERDA, Querques was assistant vice president for clean energy programs at SUNY Polytechnic Institute's College of Nanoscale Science and Engineering. In 2010, he co-founded MICROrganic Technologies, a biotechnology startup that is commercializing microbial fuel cell technologies for wastewater treatment applications.
Querques holds a BS in finance and management magna cum laude and an MBA in information technology and nanotechnology from the University at Albany.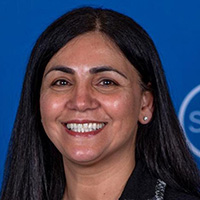 Shadi Shahedipour-Sandvik
Provost-in-Charge
The State University of New York
Shadi Shahedipour-Sandvik is the Provost-in-Charge of the State University of New York (SUNY), a post she assumed in December of 2020. Dr. Sandvik joined SUNY from SUNY Polytechnic University, where she was the interim vice president of research and graduate studies since 2017 and professor of nanoscale engineering.
In her position as interim vice president, Dr. Sandvik has been an effective leader in advancing SUNY Poly's world-class academic research, providing research and development opportunities for faculty and researchers, and making available hands-on research experiences to students so they have the necessary skills upon graduation to succeed. She has also provided leadership for both doctoral and master's degree programs; administered the graduate programs budget and the awarding of degrees; monitored graduate-level academic standards; and conducted reviews of graduate programs.
Dr. Sandvik is the author of well over 100 peer reviewed publications, has co-edited multiple books, and has one issued U.S. patent. Her research has been continuously funded by a variety of federal and state funding agencies. Her research is centered on physics and technology of photonic and electronic devices for lighting, power conversion, and sensing. Dr. Sandvik was appointed the first Presidential Fellow with the Research Foundation for SUNY in 2013, SUNY Provost Fellow in 2012, and was awarded NY Governor's 2005 Woman of Excellence for her professional accomplishment and contribution to the community. She is the editor-in-chief of the Journal of Electronic Materials. 
Dr. Sandvik joined the College of Nanoscale Science and Engineering in 2002 after completion of a postdoctoral appointment at Northwestern University. She earned a Ph.D. in Solid State Physics from University of Missouri-Columbia and a B.Sc. in Physics from Tehran University.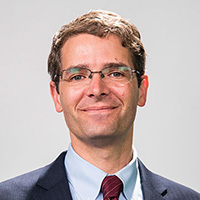 Ben Schrag
SBIR/STTR Program Director and Policy Liaison
National Science Foundation 
Ben Schrag is an SBIR/STTR program director and policy liaison. He joined NSF as a program director in 2009, leading the Advanced Materials and Instrumentation. Prior to NSF, he was the director of research and development at micro magnetics, where he led a development effort to commercialize a new family of high-performance magnetic microsensor products for demanding consumer and military applications. During this time, he also served as a visiting scientist at Brown University and as the principal investigator on several federal grants and contracts, including NSF Phase I and Phase II small business innovation research projects and an advanced technology program award from NIST. Schrag received his Ph.D. in Physics from Brown University.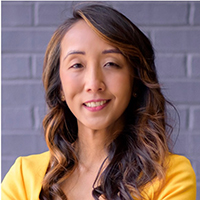 Eileen Tanghal
Managing Director
In-Q-Tel 
Eileen Tanghal is a managing director at In-Q-Tel, the strategic investor that identifies and invests in innovative technology startups to support the missions of the U.S. Intelligence and Defense communities. Since joining IQT in 2018, she has led investments in computers, communications, and sensing technologies. Prior to joining IQT, Tanghal was at ARM Holdings where she served as vice president within the New Business Ventures group and was responsible for the discovery and cultivation of investment opportunities and acquisitions in new growth areas. 
Prior to ARM Holdings, Tanghal was managing director of Applied Ventures, the corporate venture capital arm of Applied Materials, where she led an international team managing $250M in nearly 50 portfolio companies. During her tenure she and her team led several investments and strategic collaborations for Applied Materials in the semiconductor, solar, display, and whitespace areas including life sciences and medical. These efforts opened several billion-dollar market opportunities for Applied Materials. Before joining Applied Materials, Eileen was an investment director in the London office of Kennet partners and an associate at Amadeus Capital Partners.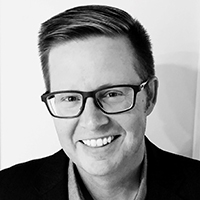 Todd Younkin
President & CEO
Semiconductor Research Corporation
Dr. Todd Younkin became the CEO of Semiconductor Research Corporation in August 2020, where he leads an approximately $90M/year global research agenda supported by approximately 3,000 academic and industrial researchers, 26 international companies, and 3 U.S. government agencies. Shortly thereafter, SRC released its 2030 Decadal Plan for Semiconductors, where it identified the five "seismic shifts" shaping the future of information and communication technologies (ICT). Working closely with SIA, SRC has called for greatly increased federal investments throughout the decade to establish a smarter pipeline for semiconductor R&D, aligned to SRC's Decadal Plan. 
Younkin is excited by the worldwide call for a renewed investment in semiconductor materials, hardware, and design, as well as the equally important calls for an emphasis on education and workforce development and our need for environmental sustainability. Only by investing in a bright, collective future, will we rise to the meet the opportunities presented by the next industrial revolution.
Younkin holds a Ph.D. from the California Institute of Technology in Pasadena, California. He completed his Bachelor of Science at the University of Florida in Gainesville, Florida.